Today I'm going to introduce one of my favourite sightseeing spots in Kagoshima. At the most southern tip of Satsuma peninsula you will find Nagasaki bana. First, you'll be impressed with the beautiful scenery. On the way to Nagasaki bana you will pass through the city of Ibusuki which is famous for their natural sand baths. During the winter months you can see the rape flowers in full bloom.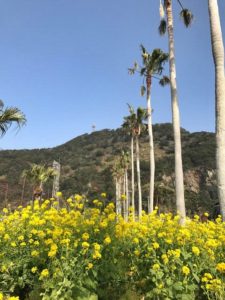 At Nagasaki bana, if you start walking from the top, you will walk along a path which leads you along many shops. You can buy local products and there's a great selection of souvenirs. My recommendation is to try the sweet potato ice cream which is a specialty to the area and it's delicious! From the shops it's a very short walk to Ryugu shrine. Be sure to have your camera ready because not only the shrine but the entire panorama view is amazing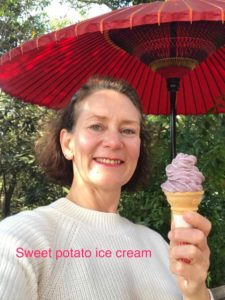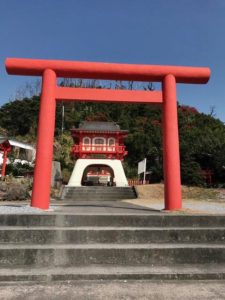 From this view point, you will see a field of lava rocks leading down to the ocean. Where I'm from in Canada, it's very flat so this type of landscape is very unique for me to see. On the right side you can see Mt. Kaimon protruding from the sea. If you have time, I would suggest going there when the sunsets because you can see fantastic sunsets. A little in the distance, you will see a light house. Along the path to get there you will find a statue of Taro Urashima .For 100yen you can write your wish on a shell and place it in the space provided around his statue. It's said that there is great energy there. Men walk in two circles going clock wise while women walk in two circles going counter clock wise.
Don't stop your adventure there! Continue walking towards the light house. You will see a path through the lava field. When I visited there, many people stopped at the light house. It's a great place to take pictures but you will be pleasantly surprised if you keep going. Even when it looks like the path has stopped, look ahead and keep going. You will find the most unbelievable clear pool of water surrounded by lava rocks. If you look down you will see coral and tropical fish swimming around. And of course, MT. Kaimon in the distance. 
Written by
Melinda Kawahara
For more information on Japan check out The Japan Discovery